---
The best, Less Lethal, Home Self-Defence weapon is the T4E HDP 50 pepper ball pistol by Umarex. This CO2-Powered, .50 Caliber air pistol is the best firearms alternative and utilizes pepper or nylon balls (both are included) as a means of self-defense.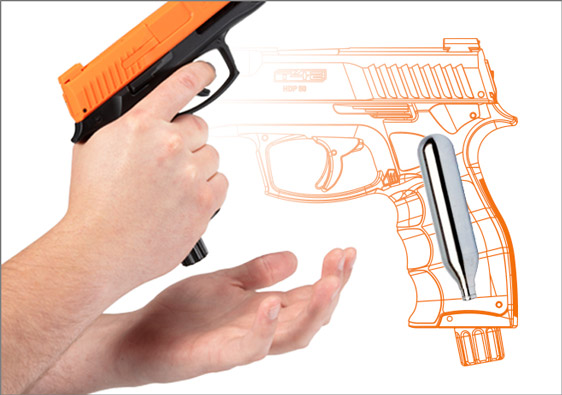 What is a less lethal round and what does it do?
A less lethal round is any round designed specifically to incapacitate a person and there are several different ways in which this can be achieved. Peppe balls work when shot by dispersing a cloud of PAVA powder that when it comes in contact with the mucus membrane, eyes or respiratory system, create a severe burning sensation making it difficult to breath or even see.
Features that make this the best self-defense pistol
The split-second CO2 activation system keeps your CO2 unpierced and ready to carry. When ready to shoot, just give the piercing screw a quick tap to pierce and activate your CO2. And consequently because you just pierced a new Co2 cartridge, you're going to have the most power ready when you need it!
Comes with both Nylon and pepper balls, the nylon balls are a great way for you to practice so you have the skills to defending yourself.
No line of sight needed! I'll say that again, you don't even need to see the attacker to be able to stop them. The pepper balls have an effective are of 12' so wether someone is hiding or behind cover it doesn't matter.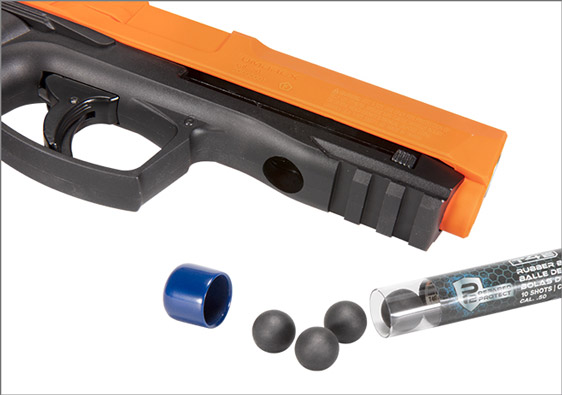 Features
A 6-shot internal magazine
Built-in Quick Piercing System for CO2 cartridges
Compatibility with rubber balls, chalk balls, marking balls, and pepper balls
A picatinny accessory rail for lights, lasers, and more
Fiber optic iron sights
Safety disengagement on trigger pull

Storage for one unpierced 12g CO2 cartridge ready-to-go at all times
Pepper rounds for less-than-lethal self-defense
Rubber balls for training and practice
Compatibility with powder balls for an even more realistic training experience
Includes
1 x Umarex T4E HDP 50 with Quick Pierce System

10 x Pepper Rounds

10 x Rubber Balls

1 x Cleaning Squeegee
---
SKU: UMRX-T4E-HDP-50-CAL-PPR-BLL-PSTL
Manufacturer SKU: 2292131
---
---